Last Thursday at SXSW, Schuba's and Spin held one heck of a party at the Yard Dog Folk Art Gallery on South Congress. Most of the lineup consisted of Chicago natives, but not everyone on the bill was from the Windy City. The first act to take the stage, just barely out of the morning hours, was The 1900's. Their "vintage" feel seemed right at home with the crowd, who quickly took advantage of their free CDs after their set.
Elvis Perkins in Dear Land played next. These guys are going on my "favorite new artists from SXSW" list. I saw them twice last Thursday, and each time was great. Unusual instruments with classic Americana feeling music was also right at home in Austin. They were a whole lot of fun and worth seeing again later that night.
Paris, France's Prototypes took the stage after Elvis Perkins, but not without some technical difficulties. Being from another continent, their gear didn't all work with American outlets, so they had to borrow some things and weren't able to play to their full potential. It wasn't a glaring obstacle however, because they had one of the most energetic shows of the day.
Midwesterner David Vandervelde took the stage next. His kooky lyrics and easy going banter set a comfortable mood with the crowd. Even though some of his lyrics were obscene (just go listen to him), no one seemed to mind. His seemingly new backing band fit well with his music and his set was pretty enjoyable.
Another band that will be on my above mentioned list would have to be California natives Cold War Kids. I also saw them twice last Thursday and they just got better. Despite playing a short set (like most bands), they packed if full of energy. Their opener had a surprising bit of percussion provided by the guitarist hitting a cymbal on a crate. Their bassist went into a trace during their set and after they played, the crowd under the tents in the back of the gallery let up, proving that most people were there to see them play.
Denton natives Midlake were up next on the bill. Their gear packed the stage, even coming off of it, and it was quite a different experience from the last time we saw them. Here, they were on a stage that was no more than a foot and a half tall, and last time, they were perched up on the Granada's four foot something stage. I couldn't even see their drummer last time, but this time he was playing about three feet away from me. Either way, in any setting, their music is always a joy to hear. Many people in the crowd knew their music and it really isn't a surprise. Their full set was:
1. We Gathered in Spring
2. Head Home
3. Van Occupanther
4. New, dual piano song
5. Roscoe

The last band of the day for us was Bishop Allen, yet another band that's going on my list. Their music was a surprise to me. I had heard people talking about them before, but never gave them a listen. Now that I've heard their recordings, I would say that their live show was much better, and that their album set for a 2007 release should be a good one.

The 1900's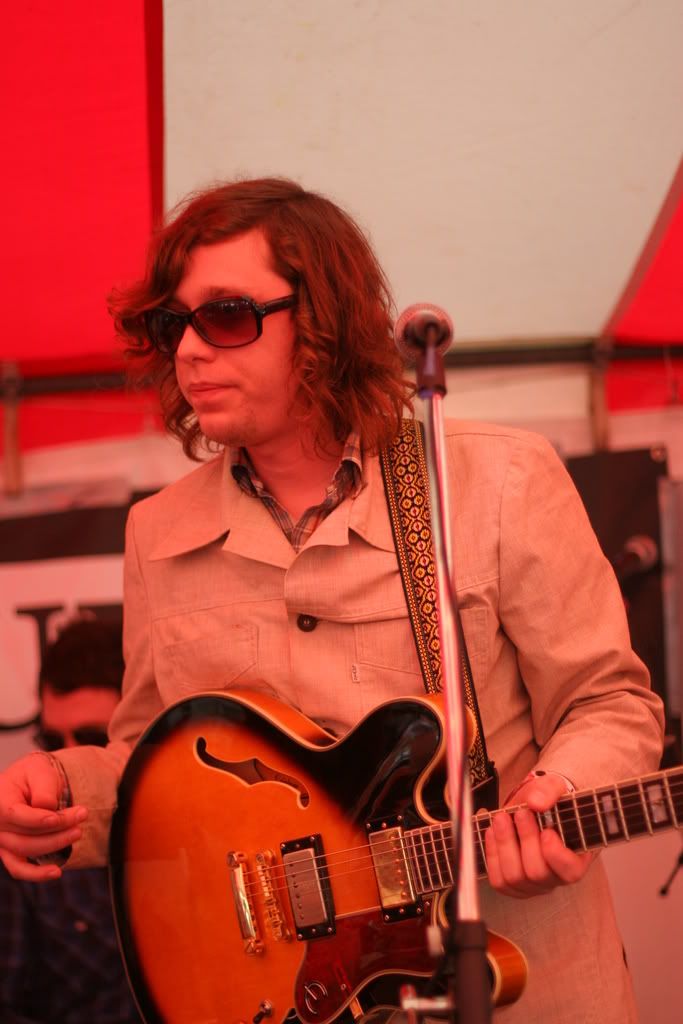 Elvis Perkins in Dear Land