Grizzly Bear played their first ever in-store performance tonight at Good Records. Their was a little bit of a discrepancy as to whether or not it was their first between

multi

-instrumentalist

Chris Taylor

and vocalist Ed

Droste

, but they ultimately came to the conclusion that it was. The first song the quartet from Brooklyn played was

Easier

, which just so happens to be the first song off of their most recent album Yellow House. Chris began the song by layering his flute with loops, played one note at a time, and then the rest of the band added their amazing harmonies to the song. It was quite a humbling experience to see the band perform a very stripped down set without ever having seen them fully plugged. A driving factor behind the acoustic set was how they incorporated their vocals into the songs and it was an excellent way to showcase their beautiful harmonies.

The band also played another

Yellow House

favorite of mine, Plans

.

The whistling on the song was another thing that stood out even more so than it does on the album. I was particularly amazed that they could get their tones to match up. Whistling is harder than it may seem. Also,
the way that

percussionist

Christopher Bear

controlled the one floor tom he played on was exceptional.
The band broke out an older song off of their first album,

Horn of Plenty

, entitled

Service Bell

. The older song fit right in with their new material, which isn't always an easy thing to pull off. It was good to hear.

To my surprise, the band played

Knife,

the song that has garnered the most immediate attention off of

Yellow House

. Again, the layering and harmonizing of the vocals stood out a great deal. I was certain that the band would opt for a different song, but they surprised. They could easily perform with no instruments and show a different side of themselves all together. Sometimes, when a band gets as much hype as this one has, you can't help but wonder if the hype doesn't merit the kind of attention it gathers, but with Grizzly Bear, it does. If you haven't been sucked in by now, it would certainly be a good time to start.

The last song of the show was performed solo by guitarist Daniel

Rossen

. He played an amazingly stirring version of

On a Neck, On a Spit.

The other members of the band just took seats near the stage and watched Daniel play the song. The way he played the song made you think that it was the way it was originally heard. The recording of the show will probably posted online sometime soon by either Gorilla Vs. Bear or

Lullabyes

. Here are three of the songs:





(Videos: Rye Clifton and David

Bartholow

)

Thanks to

Good Records

and

Gorilla Vs. Bear

for making it all happen.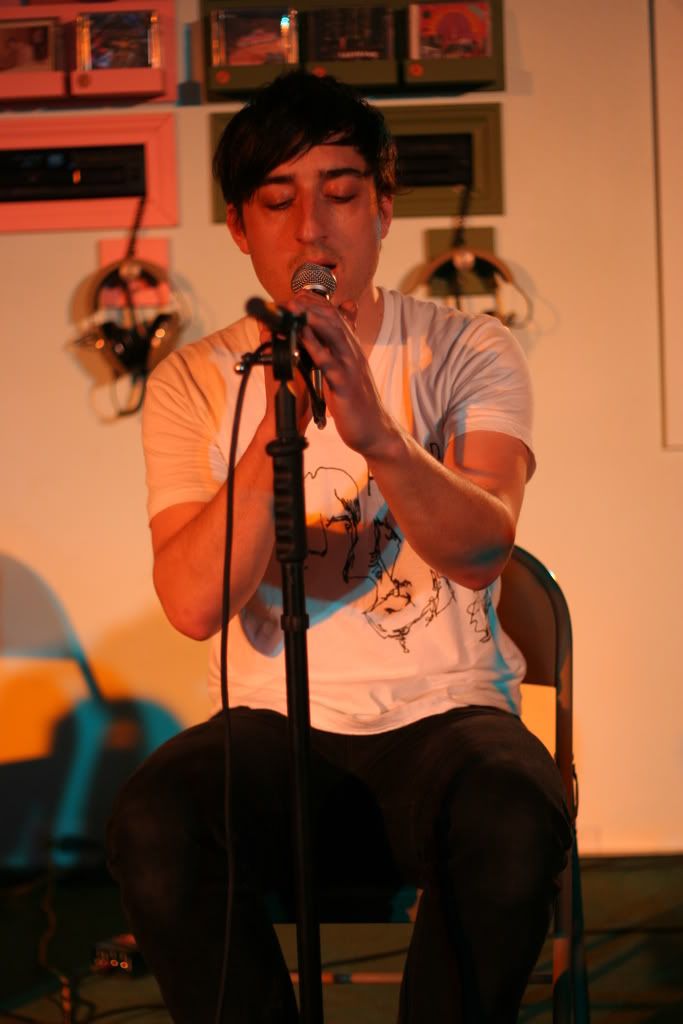 (Photos copyright Trent
Lesikar
2007)