Last night I saw Broken Social Scene in the Gypsy Ballroom. Despite all of the negative things that I can say/all of the complaining I could do about the staff of the Gypsy, the show was pretty great. John and I got to the show about an hour before the doors were set to open and we were about 20 people back in the line. I was going to go about two and a half hours before hand, but we still ended up on the front row. While waiting in line, the goon security guard, who was checking ID's and flirting with girls, told me that I couldn't bring my "pro-camera" into the show! Ahhh I hate not being able to have my own photos from a show but I guess its okay, because Broken Social Scene's two (or so) hour set last night really made up for everything else that went a little off course. MJ and his friends met up with John and I before the show started. Its always nice to be around good people.

The first band, Do Make Say Think, was pretty good. I meant to listen to them before hand but didn't. They were a pleasant surprise. I didn't expect an instrumental band, but I guess I didn't really know what to expect. I think they played for an hour or so. I will post their set list after I scan it. (I had a BSS setlist, but I will talk about that later.)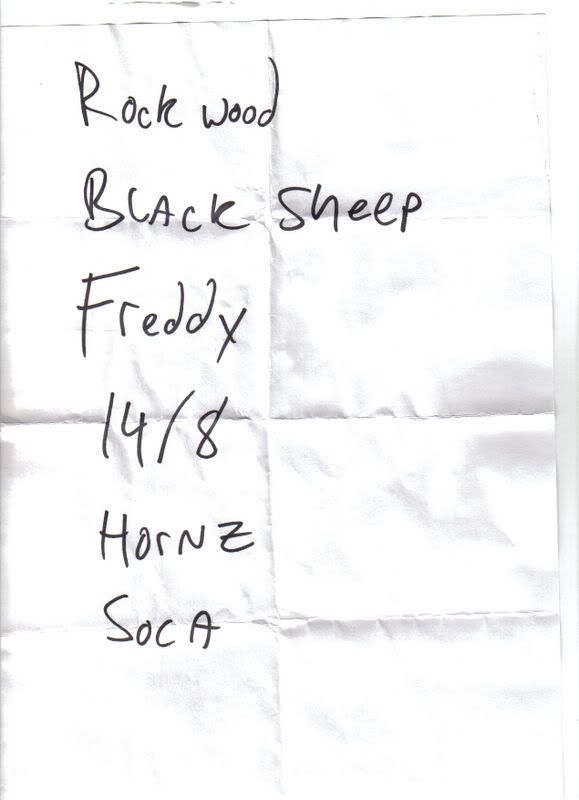 First off, let me say that seeing Broken Social Scene for my birthday was a really good thing. If John uploads the photos that he took from his phone, then I will put them on here. One thing that would have put the show over the top, would have been if Leslie Feist had been there with them. I thought she would come out eventually, but sadly, no Feist. They did however, have Amy Milan of Stars with them. Their set was full of songs that I love, like 7/4 Shoreline, Bandwitch, It's All Gonna Break, Fire Eye'd Boy, Major Label Debut, Looks Just Like the Sun, Stars and Sons (I believe), Lover's Spit, Anthems for a Seventeen Year-Old Girl, Cause=Time, Almost Crimes (one of the best), KC Accidental, Hotel (one song that for me, was the most fun to hear. Kevin Drew called it the "dance portion of the show" before they played it, and that's exactly what I did; dance.), Ibi Dreams of Pavement, Superconnected, a long improvised song after the encore (KC Accidental), and I'm sure I'm leaving something(s) off.

I really love how they all pretty much switched instruments at least a few times throughout the set. It's pretty different to see members of the same band playing multiple things during a live set and I really liked it. They had two drummers at some points during the show, which is pretty impressive. It does however seem to be a popular thing to do recently (M. Ward, Some Girls, Do Make Say Think, and BSS have all done it). Again, I really really wish that they would have had Feist with them, but you can't win them all I guess. Amy Milan did add a nice touch and I was pretty sure that they would have her along on this tour. Kevin Drew said that they played in Dallas exactly a year ago, and it was nice to celebrate this pseudo-anniversary and my birthday all in the same day. Towards the end of the set, Kevin gave us all a little therapeutic moment. He was like "Hey! Yell out any name of any person that you are having a hard time with! I promise it will make you feel better!" which was pretty nice. He then called out some guy who wasn't "into it" enough and they put the spotlight on him and he got really nervous. Then he did one of those "On the count of three, everybody say "fuck this"!" moments.

As I mentioned earlier, I would have had a setlist, but (!) one of the goon security guards took mine from me. I took it after their last song, because I knew that they didn't need it anymore. I didn't see anyone else going for it, so I took it. The guy saw me take and came over, tapped me on the shoulder and grabbed it from me. After the encore, Kevin Drew was giving them away and John went over to the security guard who took it from me (it was sticking out of his pocket) and asked him if we could have it. He refused like the jackass he is. Overall, Broken Social Scene was spot on. The combination of their large number of members, with their ability to play well together (its a surprise that all of those sounds don't bleed together) really does it for them. I can say that I enjoyed their live show more than I enjoy their recordings (don't get me wrong, they're great). Kevin said that they won't be back for a while, so I'm really glad that I was able to see them while I had the chance.

Paul is recording more for his album this weekend and I'm also seeing the Mountain Goats at Rubber Gloves in Denton as more of my extended birthday present. Expect more posts soon.