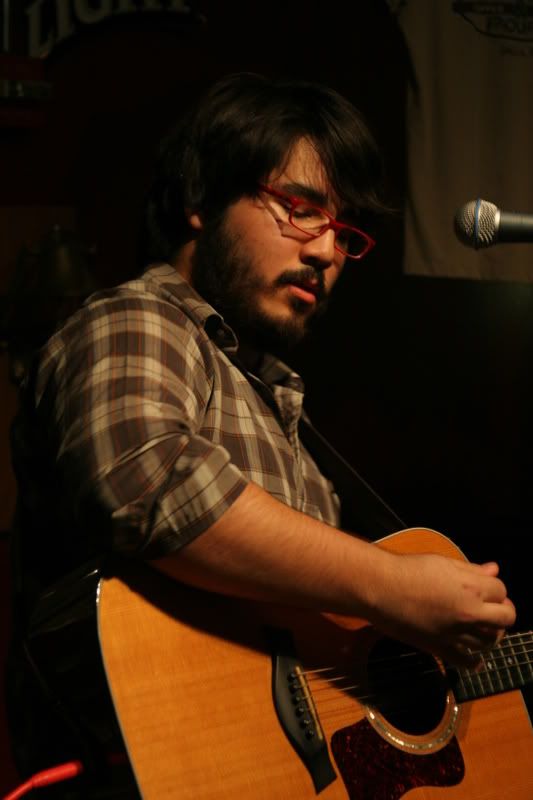 Well I just got home from seeing Jonny the Wham and John Boswell play at
Standard and Pours
, a coffee shop at S
outh Side On Lamar. I'd never been there, or heard of it for that matter, but it wasn't all that bad. I drove up to the place and I saw the Pandarosa crew walking across the street to S&P and I asked Dave and Alison where to park and they told me to park "on the other side". I acted like I knew what that meant and drove around, confused for a couple of minutes, but I fin
ally realized
what they mean
t and found a spot. I got there a little early and started to mess around with my camera eq
uipment. I should have taken my laptop, because the place had free WiFi! I did, however, leave my blog up on one of their in-house computers after the show. Ha!

Anyway, John Boswell played first, and despite all of the time that I've spent at the studio, I hadn't heard him until tonight. I really wish that he had plays a cover. Personally, I think that most musical acts should play a cover when they play live. Oh well! Jonny the Wham pla
yed an awesome cover, but I will get to that later. Boswell played with a backing band, consisting mainly of the members of Jonny the Wham, give or take one or two. Boswell also played without shoes, singing songs about National Geographic specials and songs to his significant other, wh
o shares
a love of the television show Scrubs with John Thomspon and myself.

After Boswell played, Jonny the Wham took the stage. I really enjoying hearing these guys play. Its really good stuff. I've heard most of their songs, either from the studio or from their practices. He had his sister, and my friend, Mary Anne, sing with him on one of their songs. I don't think I'd ever heard her sing by herself, but I knew she was really good. Before they played their set, John told me they were going to play a cover during their set. He called it "pretty indie" and said that he didn't think anyone would know what song it was, but it turns out he was kidding, because they played 'Crazy' by Gnarls Barkley. He certainly didn't reach those original notes, but I enjoyed their version of the song. I think the last time I heard that song, it was an improvised version pl
ayed by Chan Marshall at Austin City Limits.

After the show, I followed Dave and Alison to where we were supposed to be meeting the rest of the group to eat, but they thought they were following this person
in front of the
m, but it turns out that it was just some random car. So after we drove through the better part of downtown Dallas, we ended up at Cafe Brazil in Deep Ellum. Once we were all settled in our seats, John and and I realized how long this past week has been. We were sitting in the Cafe Brazil on 75 last Saturday night after my failed attempt to get into José González. Its really nice to be surrounded with good people. I shouldn't drink so much coffee, but the bottomless cup is just too hard to pass up. I had three big pancakes. I'm also someone who can't pass up a good late-night breakfast. I screamed at John and Mary Anne as I passed them on the highway. I came home with
coffee jitters and its not too good beca
use I have to get up early in the morning, but I've been able to finish this without getting tired. I hope I don't wake up "grumpy".

John Boswell (more tomorrow, after I upload pho
tos from my other camera):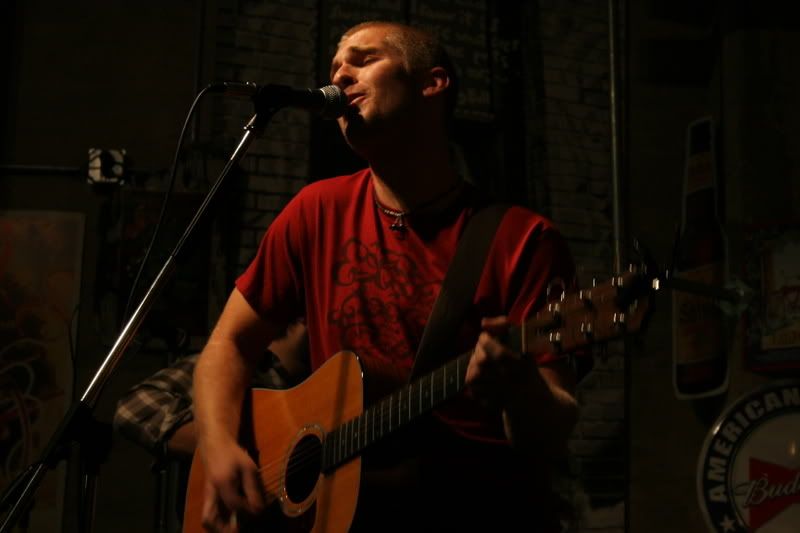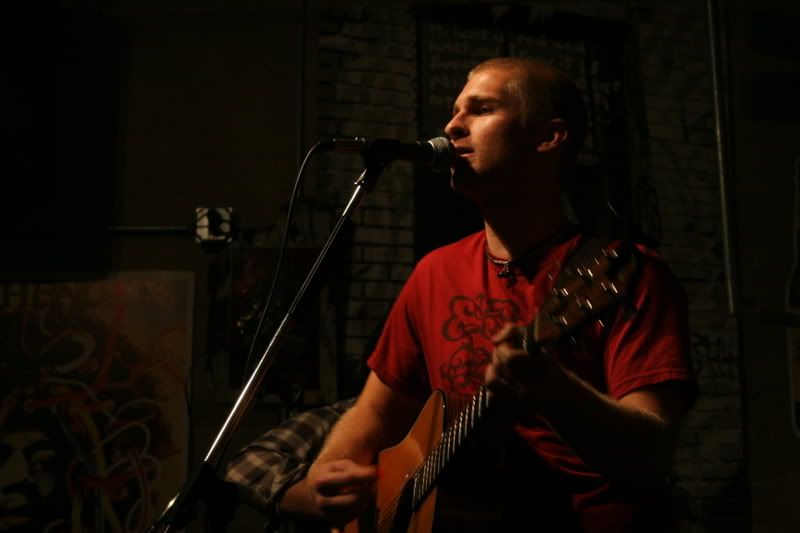 Jonny the Wham: