Last night I saw Rosie Thomas, Damien Jurado, and David Bazan at Hailey's. I think I was
probably the only one in my whole group who hadn't seen any of these people before, but I enjoyed it. The picture to the left is just another documentation of Paul, at a sh
ow, wearing a fanny pack. After the show, John, Mary Anne, and Paul were discussing some issues that they had with David Bazan an
d I think I may have had it better because they had expectation
s that Bazan didn't necessarily live up to. I had just started to listen to Bazan's solo recordings (formerly of Pedro the Lion) earlier on in
the week. Overall, I enjoyed myself, but I'll get into details in a little bit.


On our way to Denton, we picked up
Dave, Mckena, and Paul at U.D. in Irving and then made our way up there. This was only my second time in Denton (my first time was seei
ng M. Ward a fe
w weeks ago) and I think I like what I've seen. Its not bad. When we got there, we parked in the same exact spot as last time and walked over to J&J's Pizza and Mary Anne and I sat around while everyone e
lse ordered because we weren't hungry. Brittany came up there to hang out for a little bit. Its always nice to see old friends. I also ran into Sean and talked to him for a second. He was going to see Man Factory who was playing downstairs at J&J's.
At about 8:45 Mary Anne, Brittany, and myself started to walk over to Hailey's because
we were pretty sure that there would be a line, and there was.
I was a little bit worried about how
I w
as going to get p
ictures, but I shouldn't have been. I love it when people outside my conversation are listening, and they laugh at one of my jokes. Its great. I was expecting to see a wall of people when we got inside, but there wasn't, so Mary
Anne and I just took a seat at the front left of the stage. After a while, John and the rest of the group made their way through the line and came u
p front with us. After some waiting, Rosie Thomas took the stage and I was impressed. She had a really nice voice and is hysterical. Little did I know, but she is actually a stand-up comedian, performing under the name Sheila Saputo according to Wikipedia. If you hadn't heard, Pitchfork announced that she was having a baby with Sufjan Stevens, but it was actually just an April Fools joke. Here are Rosie Thomas' top three Halloween costume ideas:

3. "Steve Guttenberg, either from Police Academy or Three Men and a Baby. Your choice. And you can just call yourself, "The Gute")
2. Fog. "When you go to the party, and you have to ring the doorbell, and yo
ur friends come to the door, you can just be like "Whoosh!" and when they ask what you are.."I'm fog dude."

1. In a diaper. "This one might not be a good idea for the females, because you can only wear the diaper. No socks...nothin'... "I'm going as the diaper."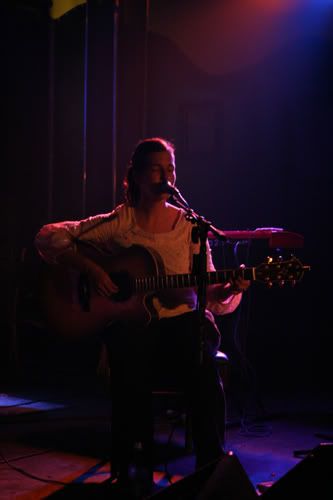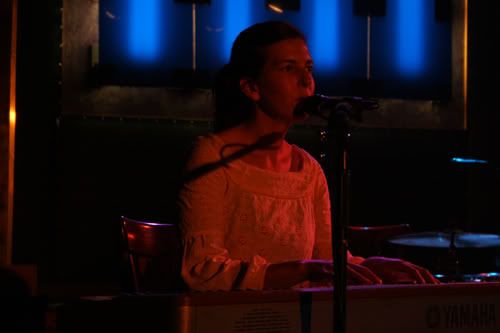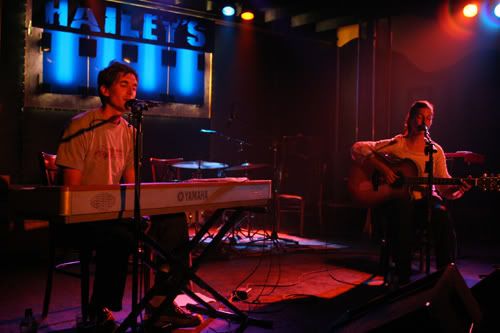 After Rosie Thomas, there was Damien Jurado. His music was no big surprise, but it was alright. He had a cello player and a guy on electric guitar, and the guy on electric played drums sometimes, and Damien even jumped on the kit at the end of the set. I hadn't heard him before the show but he wasn't bad. He sounded a little bit like Sam Beam of Iron & Wine. His cello player made a funny little joke to poke fun at Damien having said that he would either "see us later, or not" because you have to have the good with the bad. She then said "Kittens! Eels... I hate eels" and I liked that. I want to hear more from him.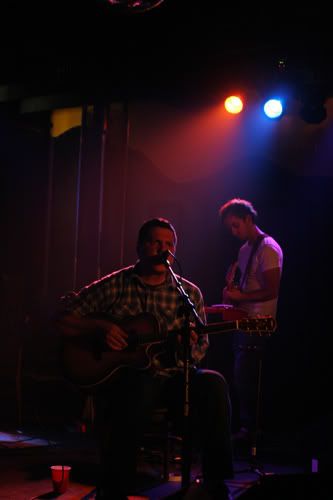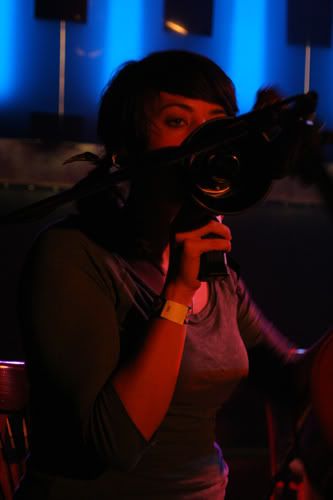 My favorite performance of the night came from David Bazan. His voice is something else (in a good way) and his music is pretty good. He was pretty charming. After he would play a few songs, he would ask the audience if we had any questions and people just started shouting things out and he would do his best to answer them. I thought that was really funny and one of the things like I like about a live show is the interaction between the audience and the performer. He had a near perfect balance between the two, but he was a bit longwinded at points. He played songs from Pedro the Lion, Headphones, and his solo material. He said that this was a really unique experience for him because he couldn't remember a show where the crowd had sang along with him as much as they did last night, which was true. Everyone, at one point during his set, was singing along to the songs and I really enjoyed that. I sang along to the few songs that I knew and I liked hearing everyone elses voices along with his. "Hey David, how many near-beers have you had?" "I think 9. That's almost one real beer."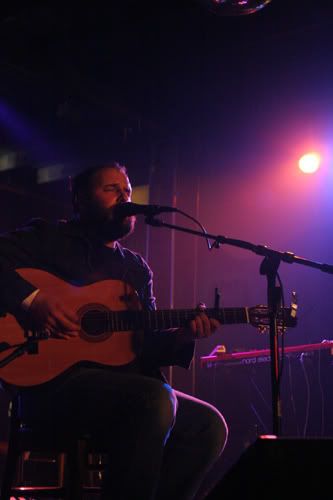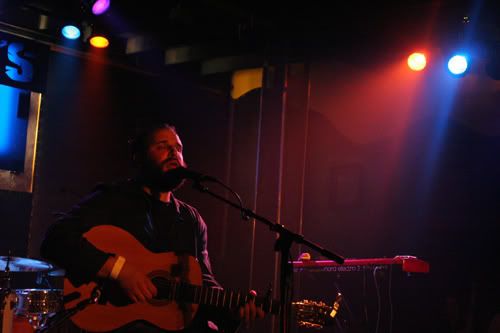 I will be at Good Records tomorrow (October 16), seeing Electric President perform in store before their show at Hailey's on Tuesday (which I'm not going to). John may post a review of the Built To Spill show on Thursday (October 19). Octopus Project is playing at The Modern Art Museum of Ft. Worth on Friday (October 20) but I doubt I will be able to go to that. John is then playing another show at The Door in Dallas on Saturday (October 21) with John Boswell. Then my birthday is the 23rd and then Broken Social Scene is the next day so I'm going to have a lot to post this next week or so.