So before I write anything about Austin City Limits, let me talk about Sufjan last night at The Lakewood. I bet that about 1,000 people have already done it but I'm going to anyway. I showed up with Mary Anne at 4:00, and the doors weren't even supposed to open until 7:00! The wait was a lot more enjoyable than I had imagined it. I pictured it to be a brick wall and in direct sunlight. I had such a good laugh in line and inside as well.
When they finally let us in, after what seemed like 100 days of waiting, we all went inside and stood at the front and waited for My Brightest Diamond, which took forever but I'm not blaming anyone because the wait was worth it. I had heard a few of her songs before the show and I liked them but she wasn't an immediate favorite of mine, but after seeing her last night, I realized that she was better than I thought. She did play the one song of hers that I was pretty much infatuated with before the show, Something of an End, and it was amazing. Her voice is a little bit like Regina Spektor's and she did some of those "weird" vocal things like Spektor as well. Her violinists played these tiny little music boxes through the mics on their violins, during one of her last songs. They also sang into them at one point. I love little things like that, that no one else does. It was her grandfather's 90th birthday and he got a huge round of applause. The sound from the drums, that I couldn't see due to the big piano in the middle of the stage, was amazing. It was some of the best live drums that I have ever heard (although that will probably change come Saturday when I see one of my favorites, but that's for another time...).

After another period of time between her set and Sufjan's, his band slowly appeared, piece by piece, he was finally coming on. His band started playing an intro, as opposed to going right into a specific song, which, by the way, I predicted would happen. He mentioned that he is working on a set of songs all about birds. He played two of those for us and I really enjoyed them. The second one, (you will be able to tell when I add the setlist at the bottom of the entry), was sooo long, but it was really really well done. I'm disappointed that he said he would probably never do an album about Texas. I think that would be pretty interesting to hear but who knows. Anyway, his new material is great. His last song in the set was Chicago and it was accompanied by what looked like a Super 8 video of the city. He really does things well. I was surprised by the amount of songs off of Seven Swans. It makes me wish that I had listened to that album a lot more before hand. I really wish that I had taken a chance and brought my camera in with me but John had his and he was able to get some good shots from the balcony. I stole the setlist from Chris at www.gorillavsbear.blogspot.com but I'm sure he wont mind. He also took the video from the encore song, The Dress Looks Nice On You.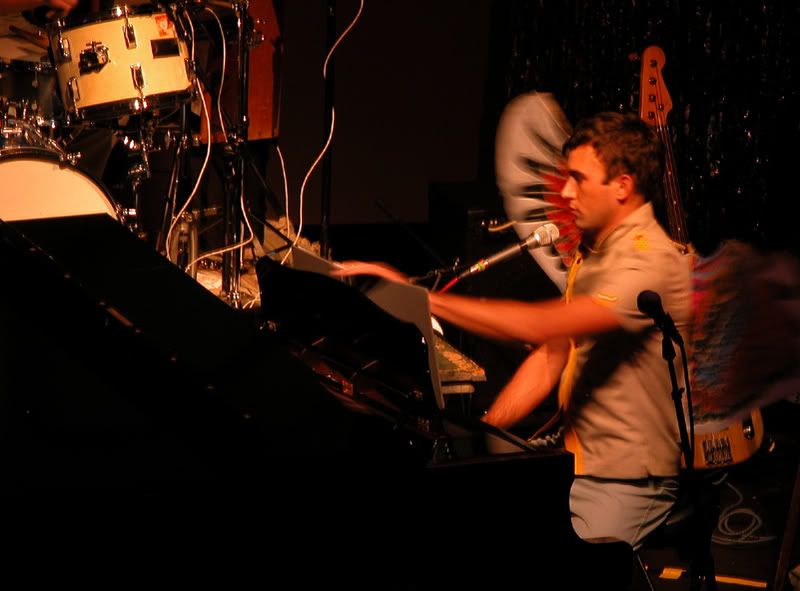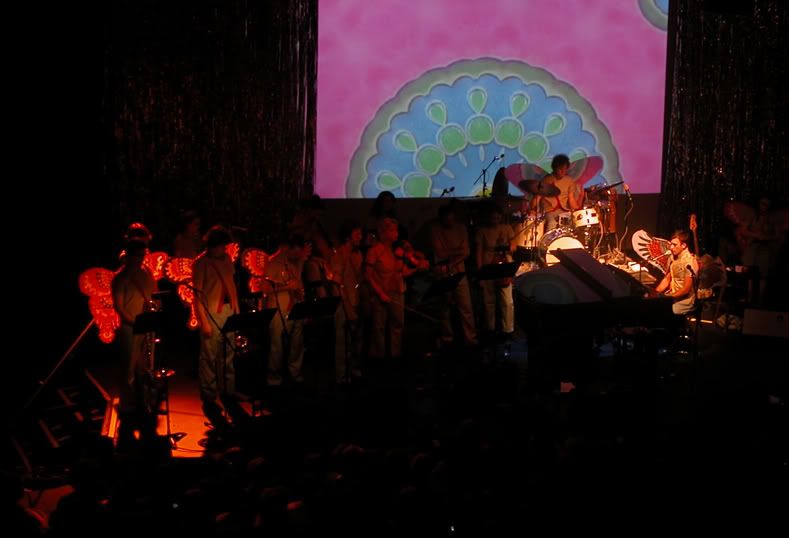 1. sister
2. casimir pulaski day
3. detroit, lift up your weary head
4. the lord god bird
5. dear mr. supercomputer
6. the transfiguration
7. jacksonville
8. predatory wasp of the palisades
9. john wayne gacy, jr.
10. a good man is hard to find
11. majesty, snowbird
12. seven swans
13. chicago
encore
14. the dress looks nice on you

The encore video: http://video.google.com/videoplay?docid=3544567693477181762